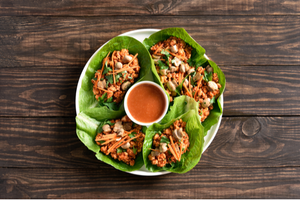 San Choy Bow (Chinese Chicken & Pork) (GF) (DF) - LIMITED SPECIAL!
Regular price $0.00 $22.00 Sale
This is one of my FAVORITE Chinese dishes! 
Lean chicken & pork mince stir fried in a fragrant savoury sauce made soy, ginger, garlic, oyster sauce & chilli. We love our veggies, so it is also filled with carrot, onion, corn, water chestnuts & fresh mint too! 
Traditionally, these are prepared as a starter with the hot mince filling encased in fresh, crunchy lettuce leaves to create a 'wrap'.
You can also serve with rice if you don't have any lettuce on hand!
Serving Instructions

Store frozen. Defrost in your fridge. Microwave on high for 3 to 5 minutes until hot. Eat within 48 hours of defrosting.
To serve, once heated spoon onto crisp lettuce leaves! Another option is to serve with rice!
NOTE: We are only supplying the filling, as lettuce doesn't freeze...
Gluten Free Friendly. Dairy Free Friendly. 

Made in a mixed environment kitchen.
INGREDIENTS
CHICKEN; PORK; ONION; CARROT; BABY CORN; ESCHALLOTS; MUSHROOMS; WATER CHESTNUTS; SHERRY; PARISIAN ESSENCE; GINGER; SOY SAUCE  (water; salt; hydrolysed vegetable protein (soy & maize proteins; molasses; salt; flavours); sugar; colour (150c); food acid (330)); GARLIC; STOCK (salt; maize maltodextrin; cane sugar; natural vegetable flavours; yeast extract; dehydrated vegetables (onion, celery); disodium guanylate & inosinate; canola oil); MINT; OYSTER SAUCE (water, sugar, salt, oyster extract (6%), thickener (1422), rice flour, caramel (150A), oyster flavour, food acid (270), yeast extract, vegetable gum (415)); SESAME OIL; CORNFLOUR; SUGAR; SALT; CHILLI; PEPPER;  
ALLERGENS: Soy, Sesame, Crustacea (Oyster); Sulphites
NUTRITION INFORMATION
Servings / PKG :
2
Serving size :
250 gm
 
Avg.Qty. / Serving
Avg.Qty. / 100g
Energy
1100.735 kJ
440.294 kJ
Calories
263.082 Cal
105.233 Cal
Protein
28.004 g
11.202 g
Fat, Total
12.979 g
5.192 g
      - Saturated
4.207 g
1.683 g
Carbohydrate
6.753 g
2.701 g
      - Sugars
4.783 g
1.913 g
Sodium
735.377 mg
294.151 mg