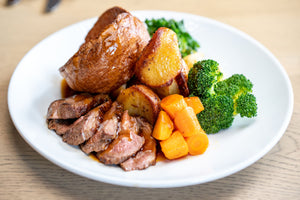 Farmer's Wife Beef Roast Dinner (GF) (DF) - MEAL FOR ONE! GRASS FED BEEF!
Regular price $16.00 Sale
Sometimes we just want that roast dinner for one like our grandmothers used to make but the thought of roasting, mashing, peeling, steaming and plating a full roast meal is overwhelming!
This is our take on a classic roast dinner for one with succulent Roast Beef, Vegetables & Pan Gravy. 
Its ready to just pop in the microwave.
We have chosen to keep the flavours simple & the seasoning minimal in line with the classic style of the dish. This is perfect for those out there who are looking for a basic, tasty, easy on the stomach option! 
As of September 2023, we are making these roast meals with Grass Fed Beef from our local boutique supplier, Bluevale Homestead. Enjoy!
Serving Instructions
Store frozen! Defrost in your fridge. Eat within 2 days. Remove plastic film prior to heating. Microwave 2-3min. 
Enjoy!
Gluten Free Friendly. Dairy Free Friendly.
Made in a mixed environment kitchen. 
INGREDIENTS

BEEF; POTATO; PUMPKIN; CARROT; PEAS; SALT; PEPPER; CANOLA OIL (Soy); GRAVY (modified tapioca starch (1442); maltodextrin (maize); yeast extract; sea salt; colour caramel (150A); natural vegetable flavour; canola oil)
 ALLERGENS: Soy
NUTRITION INFORMATION
Servings: 1
Serving size : 400g
 
Avg.Qty. / Serving
Avg.Qty. / 100g
Energy
1278.33 kJ
245.83 kJ
Calories
305.52 Cal
58.76 Cal
Protein
38.45 g
7.39 g
Fat, Total
6.26 g
1.20 g
      - Saturated
2.33 g
0.44 g
Carbohydrate
20.98 g
4.03 g
      - Sugars
6.71 g
1.29 g
Sodium
657.37 mg
126.4 mg