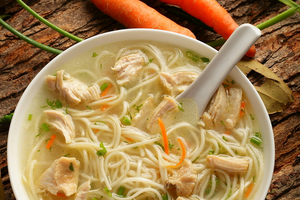 Chicken Noodle Soup (GF) (DF) - SOY FREE!!! FAMILY FAVOURITE!
Regular price $0.00 $9.00 Sale
One of our all time best sellers!
It is the ultimate comfort food & a family favourite. 
A deliciously healthy soup made with herbs, chicken breast & bones, onion, leek, carrot, celery, swede, potato & rice noodles. 
Great for a quick lunch or those days when you are needing a nutrient boost! 
Serving Instructions
Store frozen! Defrost in your fridge. Eat within 2 days.
Transfer to a microwaveable dish prior to heating.
MEDIUM SIZE: Microwave 3-4min
LARGE SIZE: Microwave 6-7min
Gluten Free Friendly. Dairy Free Friendly. 
Made in a mixed environment kitchen.
INGREDIENTS
WATER; CHICKEN; POTATO; ONION; CELERY; CARROT; SWEDES / TURNIP; RICE NOODLES (rice flour; water); LEEKS ; STOCK  (salt; maize maltodextrin; cane sugar; natural vegetable flavours; yeast extract; dehydrated vegetables (onion, celery); disodium guanylate & inosinate; canola oil); GARLIC; PARSLEY; OLIVE OIL; THYME; SALT; PEPPER; 
ALLERGENS: N/A
NUTRITION INFORMATION
Servings: 1
Serving size : 500g
 
Avg.Qty. / Serving
Avg.Qty. / 100g
Energy
679.95 kJ
67.99 kJ
Calories
162.51 Cal
16.25 Cal
Protein
27.23 g
2.72 g
Fat, Total
2.00 g
0.2 g
      - Saturated
0.58 g
0.05 g
Carbohydrate
6.69 g
0.66 g
      - Sugars
6.01 g
0.60 g
Sodium
270.45 mg
27.04 mg