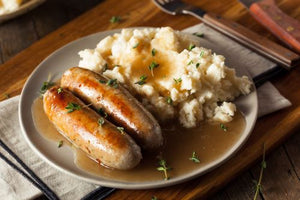 Australian Pork Sausages with Potato Mash (GF) - MEAL FOR ONE!
Regular price $16.00 Sale
Sometimes we just want that all the comfort of our childhood represented in a meal - mine is represented in Bangers & Mash!
This is our gourmet take on the classic comfort dish - Pork Sausages with Creamy Garlic Potato Mash, seasonal veggies & gravy!
Its ready to just pop in the microwave.  
Enjoy! 
PLEASE NOTE: On this one the veggies are always changing, so check the ingredient list not the photo! 
Serving Instructions
Store frozen. Best results; defrost in fridge before heating. Eat within 2days.
Microwave Heating: Pierce plastic film. Heat for 2-4min.
Oven Heating: Remove plastic film completely. Heat for 15-20min at 160C.
Made in a mixed environment kitchen. 
Gluten Free Friendly

INGREDIENTS

PORK SAUSAGES (Pork Mince; Seasoning; Tapioca; Maize; Herbs; Preservatives; Rice); BROCCOLI; CARROT; BEANS; WATER; GRAVY (modified tapioca starch (1442); maltodextrin (maize); yeast extract; sea salt; colour caramel (150A); natural vegetable flavour; canola oil); POTATO ; MILK; CREAM (milk; halal gelatine); BUTTER (cream (milk); salt); SALT; PEPPER; 
 ALLERGENS: Milk
NUTRITION INFORMATION
Servings / PKG :
1
Serving size :
400 gm
Avg.Qty. / Serving
Avg.Qty. / 100g
Energy
2360.546 kJ
485.709 kJ
Calories
564.184 Cal
116.087 Cal
Protein
32.968 g
6.784 g
Fat, Total
34.283 g
7.054 g
      - Saturated
14.387 g
2.96 g
Carbohydrate
27.694 g
5.698 g
      - Sugars
4.036 g
0.83 g
Sodium
1824.123 mg
375.334 mg