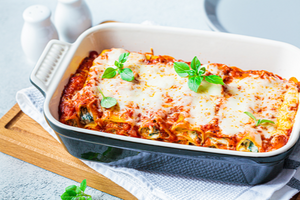 Spinach & Ricotta Cannelloni Pasta Bake (Veg) - NEW! OVEN SAFE ONLY!
Regular price $0.00 $13.00 Sale
For this delicious traditional Italian dish, we pipe a creamy mixture of spinach & ricotta into uncooked cannelloni pasta tubes, smother them with a basil & lemon tomato sauce & sprinkle with cheese.

As the dish cooks the ricotta cheese bakes, the pasta expands & the sauce thickens developing the amazing flavours!
Inspired by a Jamie Oliver recipe (Thanks Jamie!).
Serving Instructions
Store frozen. Defrost in your fridge.  Preheat oven to 180C. 
INDIVIDUAL SIZE: Oven ONLY 160C 15-20min.  
MEDIUM SIZE: Oven ONLY  160C 25-30min. 
LARGE SIZE: Oven ONLY  160C 35-40min. 
Eat within 48 hours of defrosting.
Serve by itself or with our Gourmet Focaccia Herb Bread! Enjoy! 
INGREDIENTS
CANNELLONI PASTA (durum wheat semolina); MOZERELLA (milk; salt; culture; enzymes (rennet; lipase), 509; 460; 200); PARMESAN (milk; salt; culture; enzymes (rennet; lipase); calcium chloride (509); anticaking agent (460); preservative (200)); SPINACH; RICOTTA (milk; milk solids; acidity regulator (260); salt; preservative (202); FETA (milk; salt; lactic cultures; rennet (non-animal)); LEMONS; NUTMEG; PEPPER; EGGS; CRUSHED TOMATO (sugar; thickener (1422); salt); ONION; RED WINE (grapes; sulphites); BASIL; TOMATO  PASTE (salt; food acid (citric)); GARLIC; OLIVE OIL; ITALIAN HERBS; SUGAR; 
 ALLERGENS: Milk; Wheat; Eggs; Sulphites
NUTRITION INFORMATION
Servings / PKG :
1
Serving size :
400 gm
 
Avg.Qty. / Serving
Avg.Qty. / 100g
Energy
1452.021 kJ
363.005 kJ
Calories
347.041 Cal
86.76 Cal
Protein
18.066 g
4.517 g
Fat, Total
11.441 g
2.86 g
      - Saturated
7.035 g
1.759 g
Carbohydrate
38.308 g
9.577 g
      - Sugars
15.878 g
3.969 g
Sodium
1296.931 mg
324.233 mg