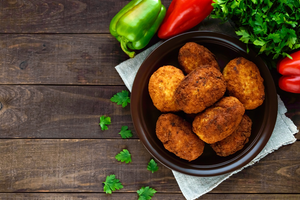 Cumin Lentil Meatless Meatloaf (GF) (DF) (Vegan) (Veg) - Packet of 3 - BACK BY POPULAR DEMAND!
Regular price $16.00 Sale
These are little loaves of flavour! One of those extraordinary recipes that we make for Monkey Business Catering that we have decided that our iCooked family need to have too. 
We steam local sweet potato & mix with tenderly cooked lentils, from there it is spice & herb time! Cumin, Curry, Thyme, Chives (from our garden) & Garlic are added to form a gorgeous, tasty mix. We then press them into mini loaf tins ready for you to pop into the oven. 
Best served straight from the oven with your favourite veggies or salad.  
No additives or preservatives, this is one of our best & healthiest creations!
Serving Instructions
Store frozen! Defrost in your fridge. Eat within 2 days. Bake at 180C for 10 - 15min or until warm. Enjoy!
Serve with some of our Zesty Maple Glaze Veggies or with some Roasted Vegetable. Beautiful with Tomato Sauce!
Gluten Free Friendly. Dairy Free Friendly. Vegan. Vegetarian.
Made in a mixed environment kitchen.
INGREDIENTS

RED LENTILS; VEGETABLE OIL (canola); GLUTEN FREE BREADCRUMBS (corn starch; flours (rice; soy); canola oil (rosemary extract); sugar; mineral salts (sodium acid pyrophosphate; sodium carbonate); yeast; salt; ascorbic acid); CURRY POWDER (turmeric, coriander, salt, fenugreek, black pepper, chilli, rice flour, allspice, celery); GARLIC; SUNFLOWER SEEDS; PUMPKIN SEEDS; PAPRIKA; CUMIN; THYME; SWEET POTATO; SALT; PEPPER; SALT; 
ALLERGENS: NA
NUTRITION INFORMATION
Servings: 3
Serving size : 180g
 
Avg.Qty. / Serving
Avg.Qty. / 100g
Energy
636.91 kJ
353.84 kJ
Calories
152.22 Cal
84.57 Cal
Protein
6.65 g
3.69 g
Fat, Total
7.51 g
4.17 g
      - Saturated
0.82 g
0.45 g
Carbohydrate
12.32 g
6.84 g
      - Sugars
0.79 g
0.44 g
Sodium
1.80 mg
1.00 mg